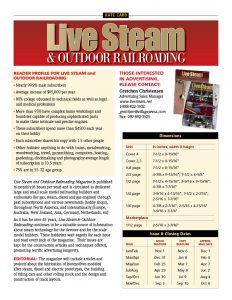 Live Steam and Outdoor Railroading magazine is published bi-monthly and is circulated to dedicated large and small scale model railroading builders and enthusiasts (for gas, steam, diesel and gas engines) through paid subscriptions and various newsstands (hobby shops) throughout North America, and internationally. We are the niche publication dedicated to this interest – and advertising with us ensures high visibility and high interest.
As it has for over 45 years, Live Steam & Outdoor Railroading continues to be a valuable source of information about steam technology for the devotee and for the scale model builders. These hobbyists wait eagerly for each issue and read every inch of the magazine. Their issues are kept for the construction articles and techniques offered, promoting terrific advertising longevity.
For more information on the magazine and ad sizes, Click Here!
Interested in Interactive Marketing Opportunities? Click Here!
For print advertising pricing and sizes, please contact:
Phone: 888-822-3102; Fax 989-892-3525