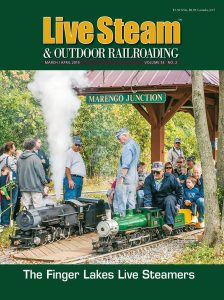 VOLUME 53 NUMBER 2 FEATURES:
The Evolution of the Finger Lakes Live Steamers
by TIM GUENTHER
A Backyard Foundry for Sand Casting – Part 1 Furnace
by CHUCK BALMER
Why Two-inch Scale?
by DENIS LARRICK
The Uintah in G-scale – Part 10 Conclusion
by BILL ALLEN
Going Injector-only in One-inch Scale
by NATHAN REED
Building the Lombard Hualer – Part 7 Main Frame
by CHRIS RUEBY
Rio Grande K-27 – Part 29A Boiler Fittings
by KOZO HIRAOKA
Animated Steam – Cool It!
by JAN-ERIC NYSTROM
Book Review "Portraits of the Iron Horse"
by DAVID BRUSH
The 2018 Article Index
Also: Mail Stop, Reader's Photo Page, Scheduled Meets and Final Run.