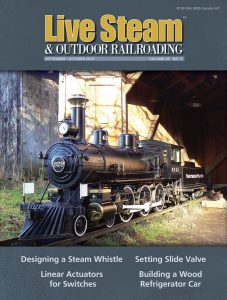 VOLUME 49 NUMBER 5
FEATURES
Chime Whistles for Scale Steam Locomotives
KEITH STERNBERG
The Grand Finish of the Eagle Point Railroad
RICK HENDERSON
Seat-of-the-pants Slide Valve Setting – The Easy Eyeball Method
DENIS M. LARRICK
Building a 1-1/2″ Scale Wood Refrigerator Car
RON SHUPARD, SR.
Steam Powered Railroad Wrecking Crane – Part 5
BOB REEDY
Linear Ball Bearing Turnout Actuator
STEVE VITKOVITS
Rio Grande K-27 – Part 13
KOZO HIRAOKA
12″ Gauge WF&P Wheel Standard
KENNETH DAVIS

New Tom Thumb – Part 15
BILL SHIELDS AND TIM VAUGHAN
FEATURES
Columns and Departments
Animated Steam – Building a Shed
JAN-ERIC NYSTRÖM
From the Editor's Desk by NEIL KNOPF
Mail Stop
Book Reviews
Scheduled Meets
Last Run
LS&ORR Market
Advertisers' Index
---
LIVE STEAM & OUTDOOR RAILROADING is published bimonthly by Village Press, Inc., 2779 Aero Park Drive, Traverse City MI 49686, Tel: (231) 946-3712, Fax: (231) 946-9588. Periodical postage paid at Traverse City, MI 49686.
COPYRIGHT: The contents of this publication are copyright ©2014 by Village Press, Inc. and may not be reproduced in whole or in part without the written consent of the copyright owner. Drawings may be copied for use in personal construction projects, but may not be distributed to others.
Printed in U.S.A. by Village Press.